CHOICE OF 3 GREAT RESORT HOTELS
THE WESTIN KIERLAND RESORT & SPA
The ultimate in luxury accommodations. The Westin Kierland Resort & Spa is located in Northern Scottsdale, only a couple of miles from the Ice Den Arena. Most rooms have a balcony or terrace with views of the golf course or spectacular McDowell Mountain. Right across the street is the Kierland Commons with upscale shopping and restaurants. The resort features separate pools for adults and children, as well as a flowing river pool and waterslide. Experience Troon Golf at the 27 hole Kierland Golf Club. Agave, The Arizona Spa has 20 treatment rooms, saunas, massage therapy, skin treatments and salon services. The resort also has a complete fitness center with personal trainers, as well as hiking and biking trails.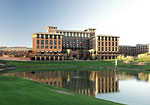 Double
Occupancy
Triple
Occupancy
Single
Occupancy
Per Player Price
$479
$419
$809
Non-Playing Guest
$330
$270
$660

THE BUTTES RESORT
The Buttes, a Mountaintop Resort in Tempe, is a remarkably different, award-winning, 25 acre resort, sitting on a natural landmark overlooking the Phoenix skyline. The unique lobby is built right into the rocks. The luxurious rooms have a special western motif. The Buttes three restaurants are highlighted by the dramatic Top of the Rock Restaurant featuring fine southwestern cuisine. The adjacent Top of the Rock bar, with nightly music and dancing, is one of the nightlife hot-spots in the area.

The Buttes has unmatched recreational facilities. It starts with a cascading waterfall from the lobby down to the two free-form pools with a water slide. The poolside bar and grill means you never have far to go for some cool refreshments. There are four secluded mountainside whirlpools to relax in while enjoying a spectacular view of the entire "Valley of the Sun". The Buttes also has four lighted tennis courts, two beach volleyball courts, and a health club complete with sauna and massages.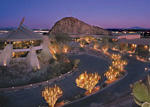 Double
Occupancy
Triple
Occupancy
Single
Occupancy
Per Player Price
$379
$349
$609
Non-Playing guest
$230
$200
$460

SHERATON GRAND AT WILD HORSE PASS
The Sheraton Grand at Wild Horse Pass is unlike any other resort. It is conveniently located just south of Phoenix Sky Harbor Airport, just minutes away from Chandler Ice Den, and just a quick drive to AZ Ice Gilbert and the nightlife on Mill Avenue in Downtown Tempe. Teams staying at the Sheraton Grand at Wild Horse Pass will have priority for their games at the Chandler Ice Den, The Native-American decor perfectly compliments the beautiful land the resort sits on, and provides a sense of local heritage. The guest rooms provide an ample amount of space, with some rooms including their own personal, furnished balcony. The rooms also include spacious bathrooms with upgraded amenities and plush towels to make you feel right at home.

You can enjoy rounds of golf at Whirlwind Golf Club, get pampered at Aji Spa, or take a ride on an 111-foot waterslide that is showcased at one of the four resort pools. The large pool area provides plenty of space to lay back and relax. For those bringing their family, the resort also offers horseback riding at the Koli Equestrian Center, tennis courts, a scenic boat ride to Rawhide on the river surrounding the resort, and a special kids-only Sheraton Adventure Club. Start your day off right with a delicious breakfast from the breakfast buffet, take a much deserved lunch break at Aji Café, and end your day with an exquisite dinner at Kai; the only AAA Five-Diamond/Forbes 5-Star restaurant in Arizona.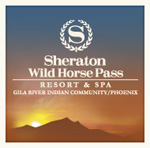 Double
Occupancy
Triple
Occupancy
Single
Occupancy
Per Player Price
$379
$349
$609
Non-Playing Guest
$230
$200
$460

SCOTTSDALE PLAZA RESORT
The Plaza's prime location on Scottsdale Road puts you right in the middle of Scottsdale's great restaurants, night spots & shopping. The Scottsdale Plaza offers multiple room types to fit everyone's needs. The Bi-Level Suites have over 900 square feet of spacious luxury. The lofted bedroom has its own bathroom & television set as well as a private balcony. The spacious living room is a perfect gathering place for the whole team. It includes a wet bar, fire place, patio, & separate dining area. There is a fold-out sofa bed & a second full bathroom.

STANDARD ROOM
Double
Occupancy
Triple
Occupancy
Single
Occupancy
Per Player Price
$359
$329
$569
Non-Playing Guest
$210
$180
$420
VILLA OR KING VILLA SUITE
Per Player Price
$439
$389
$729
Non-Playing Guest
$290
$240
$580
KING PATIO SUITE
Per Player Price
$479
$419
$809
Non-Playing Guest
$330
$270
$660
BI-LEVEL SUITE
Per Player Price
$479
$419
$809
Non-Playing Guest
$330
$270
$660
TOURNAMENT DETAILS
Games will begin at 2:00pm on Friday afternoon and conclude by 5:00pm on Monday afternoon.

Choice of 4 Great Hotel Options: The Westin Kierland Resort & Spa in Scottsdale, The Buttes - A Marriott Resort in Tempe, The Sheraton Grand at Wild Horse Pass near Chandler, & The Scottsdale Plaza Resort in Scottsdale.

Hotel packages include Tournament Fee and Fri-Sat-Sun nights. Extra nights available, contact us for details.

Players who wish to participate in the tournament only (no hotel), price is $169. Prices in U.S. Dollars.

Prices are based on 14 players per team.
THE DIVISIONS
At California Hockey Productions, we do everything we can to place all teams in a division with other teams of similar ability. To do that, we learn as much as we can about each team; their age, playing experience, the competition level in their league, etc. Below is a guideline to each division. If you are not sure about which division your team fits into, please call the California Hockey Productions office and we will figure it out.
•
"A"
The highest level of recreational hockey.
Most players have played at junior, college, or even professional level.

•
"B"
Just below the top level. May have some "A" level players.
May be the highest level in some areas, top intermediate level in other areas.
•
"C"
Middle to upper level intermediate level.
Many players have played at higher levels, while some have worked their way up from lower levels.
•
"D"
Lower to middle intermediate level.
A wide range that will often be split into separate divisions.
Geared mainly toward the novice player who has worked up.
Will also have some upper level players who, as they get older, are coming down.
•
"Novice A"
A team of mostly novice players, who have had enough experience to
move up to intermediate, but may not be quite skilled enough.
•
"Novice B"
A beginner level team with players having about 2-4 years experience or the equivalent ability.
•
"Novice C"
A beginner level team with players having less than 2 years experience or the equivalent ability.
•
"Women"
There will be Novice and Intermediate divisions.
INDIVIDUALS
If you would like to participate in any of California Hockey Productions' tournaments, but don't have a team to play on, we will be happy to try to place you on a team that is looking for an extra player.

Call us at (424) 273-4011 if you are interested.
REGISTRATION DETAILS
To register your team for a California Hockey Productions tournament, please contact California Hockey Productions. Non-refundable deposit of $200. Registrations will not be accepted without a deposit.

Registrations will close on the dates listed below or when all spots in the tournament are filled. Please register early to avoid being shutout!


| | | | | |
| --- | --- | --- | --- | --- |
| Tournament Weekend | | Registration & Deposit Deadline | | Per-player Payments Due |
| May 22-25 | | April 3 | | April 21 |
$75 DISCOUNT FOR TEAM ORGANIZERS
Team organizers deserve some compensation for all their hard work. California Hockey Productions offers the team organizer a discount of $75 off their registration fees. To qualify for this discount, you must make sure that all of your team's registration forms, payments, and your rosters are completed and submitted by the deadlines.
© 2020, California Hockey Productions