22nd Annual Las Vegas Women's Hockey Classic
January 25-28, 2018

GREAT RESORTS • GREAT SHOWS • GREAT HOCKEY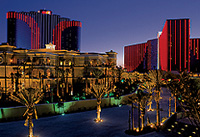 RIO ALL-SUITE HOTEL & CASINO
Located just off The Strip, the Rio has become one of Vegas' premier resorts. The Brazilian-themed resort has over 2,500 rooms that are all suites, have over 600 square feet of space with floor-to ceiling windows that offer great views of the city.

The dining options are endless, including the up-scale Martorano's and Royal India Bistro, as well as the world-famous Carnival World Buffet. Entertainment includes one of Vegas' great night-life hot spots, VooDoo Rooftop Nightclub. You can also take in the magic of Penn and Teller, as well as free live music at the Masquerade Village.

TUSCANY HOTEL & CASINO
The Italian-themed Tuscany Suites & Casino has a great location less than 1 mile off The Strip on Flamingo Road. The resort is set on 27 acres of winding pathways with fountains and pools. Tuscany has 700 rooms, each with 650 square feet in a studio suite. Each suite offers includes a refrigerator, coffee maker and an oversized bathroom.

The Tuscany has an attached, full casino, with over 800 slot and poker machines, all the table games and a sports book. Dining includes Tuscany Gardens, Marilyn's Cafe and Caffe Bottega. Live entertainment can be seen at the Piazza Lounge.

Resort Hotel
Rio All-Suite Hotel & Casino
Tuscany Hotel & Casino
Occupancy
Triple
Occupancy
Double
Occupancy
Single
Occupancy
Triple
Occupancy
Double
Occupancy
Single
Occupancy
Per Player Price
$389
$349
$629
$389
$339
$629
Non-Playing Guest
$240
$200
$480
$240
$190
$480
Includes 4 days & 3 nights and tournament registration.
Hotel resort fees and taxes included in package price.
TOURNAMENT DETAILS
Games will begin at 2:30 PM on Thursday afternoon and conclude by 3:00 PM on Sunday afternoon. Prices based on 14 players per team. Package is for Thur-Fri-Sat nights. Extra nights are available, contact California Hockey Productions for details. Players who wish to participate in the tournament only (no hotel), price is $169. Prices in U.S. Dollars.

TOURNAMENT FEATURES
3 game minimum plus playoffs
Team Pucks and Puck Bag for every team
USA Hockey™ no-checking, no-fighting rules
Many different levels of play guarantees competition against teams of similar ability
Complimentary tournament T-shirt for each player
Championship and 2nd place awards in each division
All-Tournament and MVP selection awards
$75 discount for team organizers
Souvenir program for each player
Post-game refreshments served in the locker room
To register your team for Las Vegas Women's Hockey Classic, please inquire for a form via email. Registrations WILL NOT be accepted without a deposit.

Registration will close on Deccember 5th, 2017 or when all spots are filled. Full payment is due December 27th.
SKILL LEVELS
There will be 3 divisions in the 2018 Las Vegas Women's Hockey Classic:
Upper Intermediate
Intermediate
Novice
Depending on registrations, the Intermediate and Novice Divisions may be split into multiple divisions.

Advanced and Upper Intermediate level players WILL NOT be allowed to play on Novice level teams.

INDIVIDUALS
If you would like to participate in the Las Vegas Women's Hockey Classic, but don't have a team to play on, we will be happy to try to place you on a team that is looking for an extra player.

Call us at (424) 273-4011 if you are interested.
© 2017, California Hockey Productions