28th Annual Las Vegas Women's Hockey Classic
January 25-28, 2024

NORTH AMERICA'S PREMIERE ADULT RECREATIONAL HOCKEY TOURNAMENTS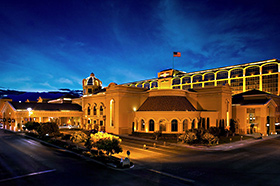 SUNCOAST HOTEL & CASINO
The SunCoast, located in beautiful Summerlin, is just the place to relax in elegant luxury; just a few minutes from City National Arena. Every room offers breath-taking views of the Las Vegas Valley or the Spring Mountains. All rooms have been recently remodelled and offer a minimum of 550 square feet.

Chances are, your favourite game is here with over 1,800 video poker & slot machines, bingo, and a wide variety of table games. Enjoy world class golf at one of many courses around the area. Enjoy live acts in the Showroom, see the latest film in the Century 16 movie theatre, or bowl a few frames at Cosmic Bowling.

TUSCANY SUITES & CASINO
The Italian-themed Tuscany Suites & Casino has a great location, less than 1 mile off The Strip on Flamingo Road. The resort is set on 27 acres of winding pathways with fountains and pools. Tuscany has 700 studio suite rooms; each including a refrigerator, coffee maker, and an oversized bathroom.

Tuscany's casino has over 800 slot & poker machines and a sports book. Pub 365 features 365 rotating beers and traditional pub fare with a modern twist, including homemade small bites and iconic burgers. The show never ends at Tuscany; from the talented Rat Pack, to sidesplitting comedy acts, and the best lounge shows.

SUNCOAST HOTEL & CASINO
9090 Alta Drive
Las Vegas, NV 89145

TUSCANY SUITES & CASINO
255 East Flamingo Road
Las Vegas, NV 89169

Double
Occupancy
Triple
Occupancy
Single
Occupancy
Double
Occupancy
Triple
Occupancy
Single
Occupancy
Player, per person
$469
$389
$769
Player, per person
$479
$399
$789
Non-playing guest
$300
$220
$600
Non-playing guest
$310
$230
$620
Hotel packages include 4 days & 3 nights and the tournament registration fee.
All prices include the room, tax, and resort fees.
TOURNAMENT DETAILS
Games will begin at 2:00p on Thursday and conclude by 3:00p on Sunday.

Players who wish to participate in the tournament only (no hotel), price is $189.

Prices based on roster minimum of 14 players per team.

All hotel packages include Thursday-Friday-Saturday nights, as well as the individual tournament registration. Extra nights are available.

For more information, download the full brochure: VIEW BROCHURE
TOURNAMENT FEATURES
• 3 game minimum, plus playoffs.
• USA Hockey™ no-checking, no-fighting rules.
• Team pucks and puck bag for every team.
• Many different levels of play guarantees competition against teams of similar ability.
• Complimentary tournament t-shirt for each player.
• Championship & 2nd place awards in each level.
• Post-game refreshments served in the locker room.
• Souvenir Program for each player.
• All-Tournament & MVP selection awards.
REGISTRATION DEADLINES
TEAM REGISTRATION DEPOSIT
December 8th, 2023*
* Registration may close sooner if all spots are filled.

INDIVIDUAL PLAYER PAYMENT
December 28th, 2023
TEAM ORGANIZER'S DISCOUNT
Team organizers deserve compensation for all of their hard work. California Hockey Productions offers the team organizer a discount of $75 off their registration fees. To qualify for this discount, organizers must make sure their team's payments, registrations, and rosters are completed and submitted by the deadlines.
ICE RINKS
City National Arena
1550 South Pavillion Center Drive
Las Vegas, NV 89135

America First Arena
(Formerly Lifeguard Arena)
222 South Water Street
Henderson, NV 89015

Pepsi Ice Arena
2400 North Rancho Drive
Las Vegas, NV 89130
DIVISIONS
There will be three divisions in the 2023 Las Vegas Women's Hockey Classic:
Upper Intermediate
Intermediate
Novice
Depending on the number of registrations, the "Intermediate" and "Novice" divisions may be split into multiple divisions.

Advanced and Upper Intermediate level players WILL NOT be allowed to play on Novice level teams.

INDIVIDUALS
If you would like to participate in the Las Vegas Women's Hockey Classic, but don't have a team to play on, we will be happy to try to place you on a team that is looking for an extra player.

Call us at (310) 643-6356 if you are interested.
© 2023, California Hockey Productions